UPCOMING EVENTS
Saturday, October 14, Work day at Habitat for Humanity four-home site. See Russell to help.
Saturday, October 21, Walk to End Alzheimer's. See Julie or Kerby to join our team.
Wednesday, November 29, Blood Drive at The Woodland. Mention Rotary so we get credit!
Apply for Our Community Service Grant!
Click here to download an application in PDF, and here to download an application in Microsoft Word.
The Rotary Club of Farmville is now accepting applications for the second year of its Annual Community Service Grant from organizations whose activities promote and enhance the quality of life for citizens of the Town of Farmville/Prince Edward County but may also have a greater footprint in the region for their project. Organizations must be not-for-profit, and benefit local citizens. The grant is a contribution of up to Five Thousand Dollars ($5,000).
It is preferred that the grant be used in the following manner: as seed money to start a "bricks and mortar" or equipment project, and not for general or operational expenses; however, it is not the intention of Rotary to exclude a worthwhile and deserving project.
Applications may be obtained by clicking the links above or by sending a request by e-mail to Club Vice President Douglas Stanley at dpstanley2020@gmail.com. Completed applications may be emailed or mailed, and cannot contain any additional material other than the completed application. Applications must be postmarked by no later than Friday, October 27, 2023, if mailed to the Farmville Rotary Club at P.O. Box 659, Farmville, VA 23901, or emailed to dpstanley2020@gmail.com by 4pm on October 27.
committee will screen all applications, select the finalists, and present those finalists to the full club membership for final selection of the grant recipient. Finalists will be given an opportunity to personally explain their projects to the full membership of the Rotary Club at its regular meeting, currently scheduled for Thursday, November 9, 2023, at 12:00 Noon at the Community Center at the Woodland, before a vote is taken. The decision of the full membership is final
Fishin' Frenzy winners!
Area fisher folks enjoyed competing for prize money and supporting our Rotary club in the bargain. The awards ceremony took place Saturday, May 13, 2023. We thank everyone who took part. Proceeds from the week-long tournament will benefit non-profits in central Virginia. Photos by Jennifer Fraley.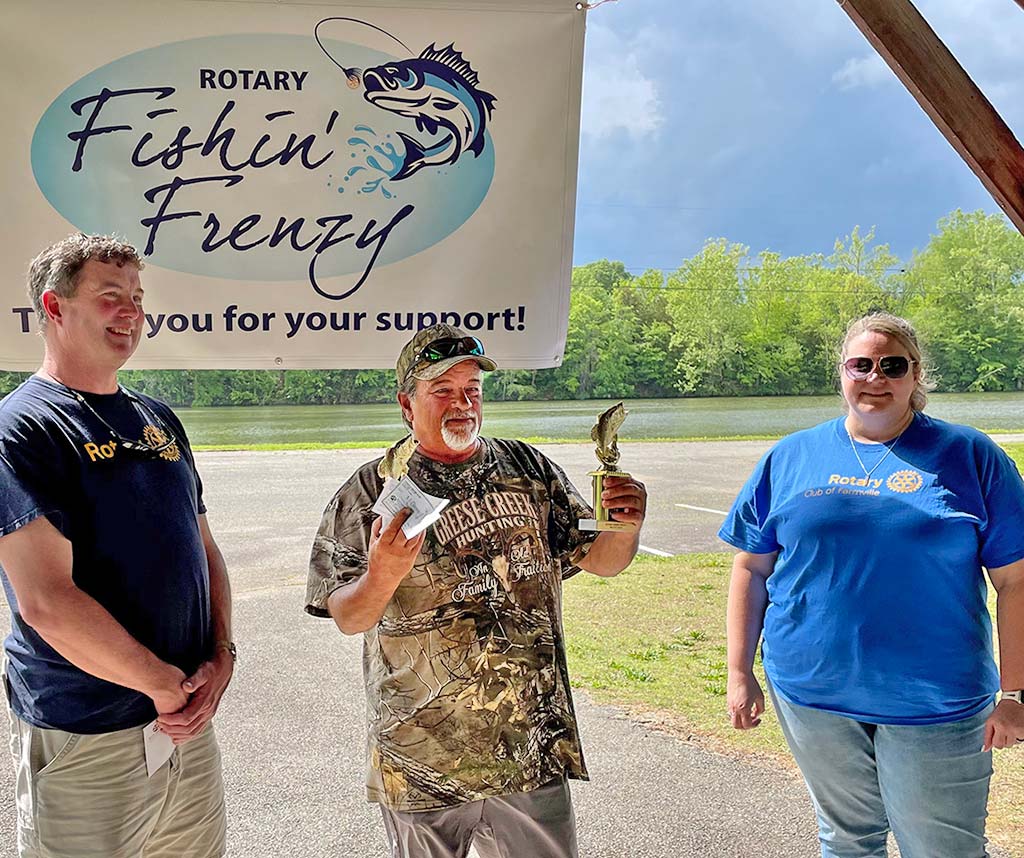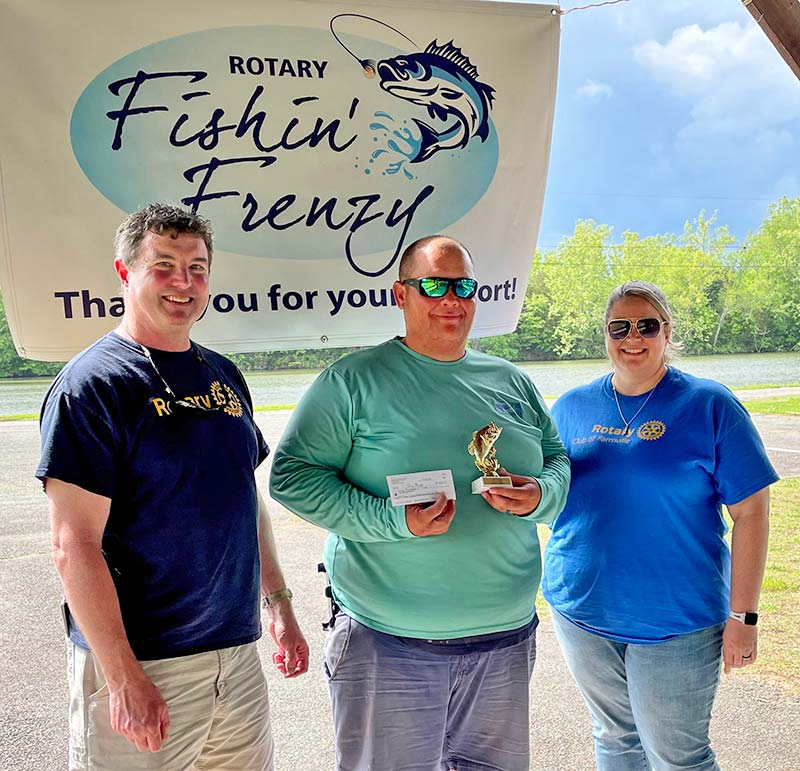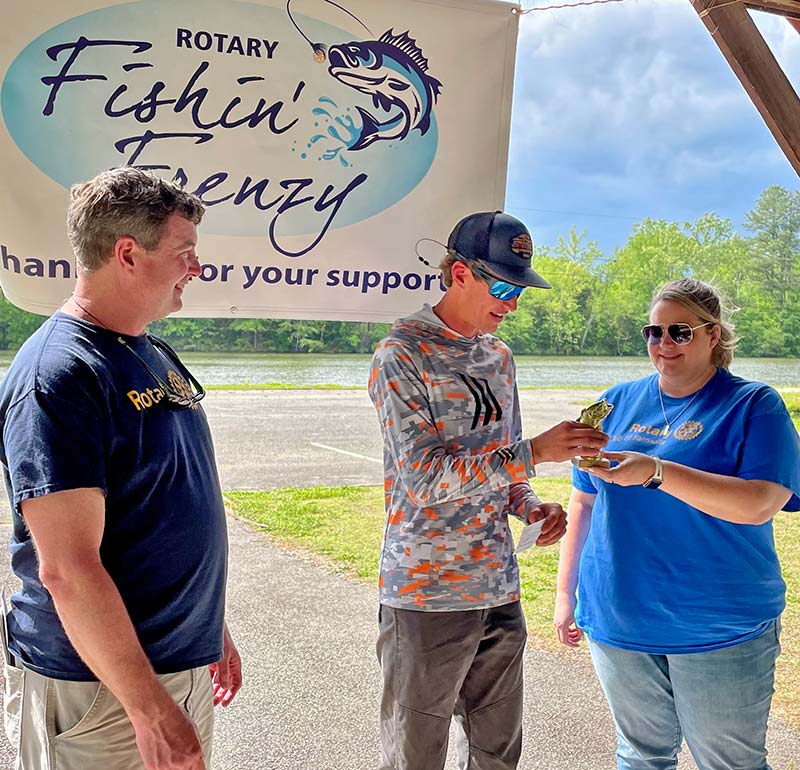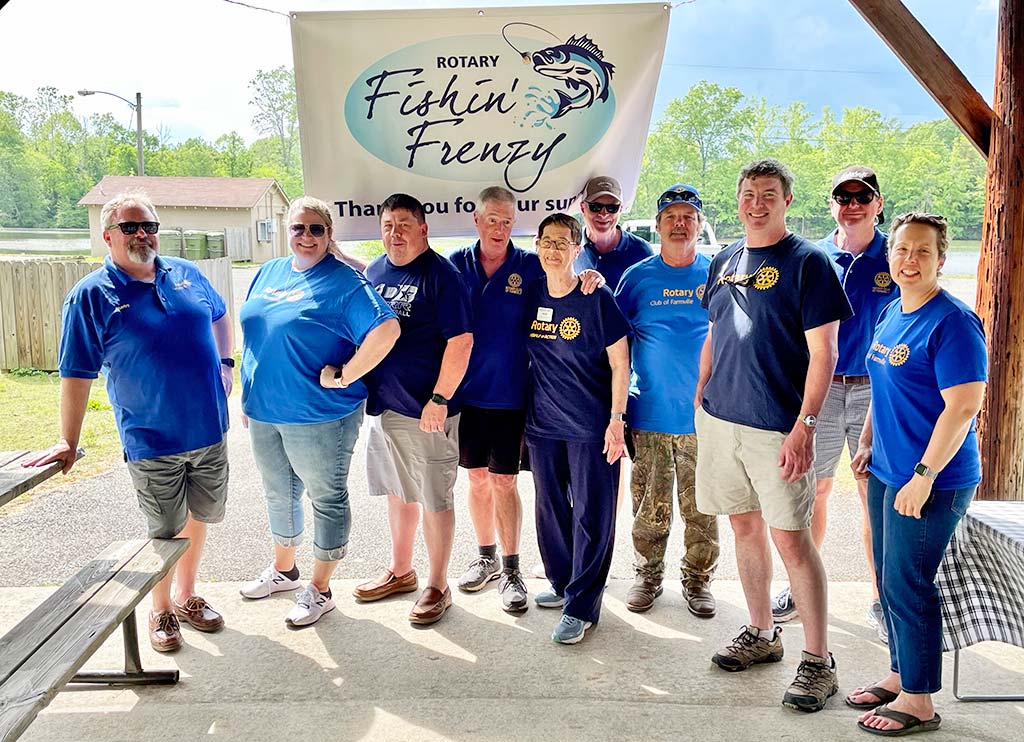 Celebrating the Club's 85th Anniversary through Service
The Rotary Club of Farmville, founded on March 8, 1938, celebrated its 85th anniversary with members gathering to work on a Piedmont Habitat for Humanity worksite that afternoon. Four new Habitat homes are coming soon to a section of Andrews Drive in the town limits of Farmville. Club members, one of the future home owners, and Habitat employees worked together to construct front and rear walls for storage sheds provided with each house.