Member Stories
Joy Stump, Eternal Optimist
1. Tell us about a trip or series of trips you found especially enjoyable.
Our family believes that making memories is more important than gifts, so we try to go places and share experiences together. The most special trip we have ever taken was in December 2016 and we all went to Italy over Christmas. It was a magical trip for all of us. It was not a time that most tourists were visiting so we felt that we had Venice and Florence all to ourselves. It was a trip that was filled with so many memories and love. We even found a favorite gelato place and visited it every day.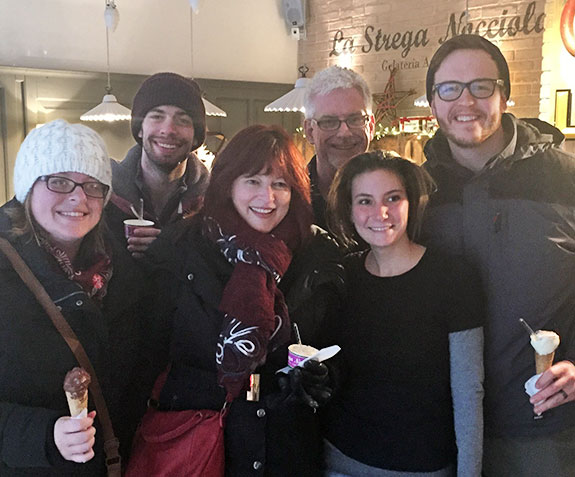 2. Tell us about an area of service, either in or out of Rotary, that you found (or find) especially rewarding.
I worked in hospice as the volunteer coordinator for almost 10 years before moving to Virginia. Hospice, and working with volunteers, changed my life. While many people thought my job would be so depressing and sad they did not realize how good it felt to help people. Hospice is a service I have always been passionate about and was a volunteer myself, and it was such an honor and privilege to be able to build a career in that field. Also, working with volunteers was such a blessing and I learned innumerable lessons from them every day.
3. Have you, in turn, been the beneficiary of someone else's service or generosity? Tell us about it.
I can't begin to count the many times in my life that I have been blessed by someone's service or generosity to me. I think I most noticed this when I moved to Farmville and started a brand-new job that I was unfamiliar with. It seemed that every single day I had someone who would come to the office and tell me something, help me do something, or show me something. All this was without me ever having to ask! Some days I felt like I was living a miracle and just when I needed some guidance or information it would appear.
4. Tell us what you think makes Rotary unique.
What I think makes our Rotary club unique is that we strive to develop relationships among members. By sharing stories through Happy dollars, meeting every week, and even singing together, we get to know what is going on in each other's lives.
5. Finally, tell us an interesting story about yourself, your family, or your work. Let us get to know you better!
I am an eternal optimist and try to always look for the positive side of things. I love to help in the community so my job as the Community Relations Coordinator for SEC is just the perfect role for me. When I'm not working, my favorite thing is spending time with my family. I love them all so much, but my 2 grandsons make life incredibly fun. I also like to quilt when I can find some time. I also love football and have been a lifelong fan of the NY Giants—although they break my heart most years.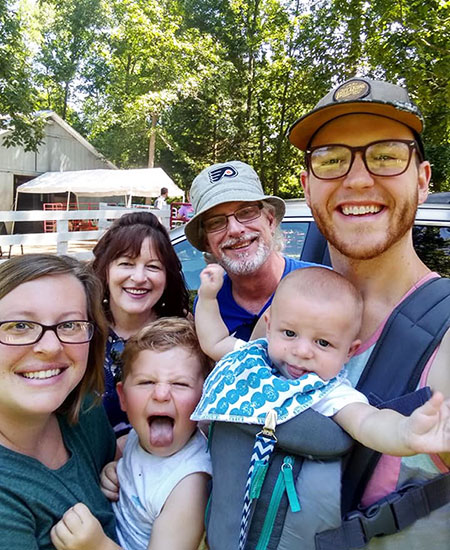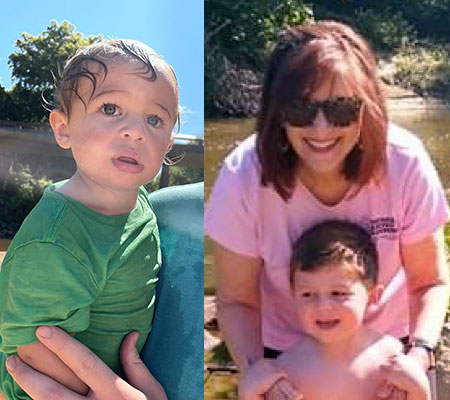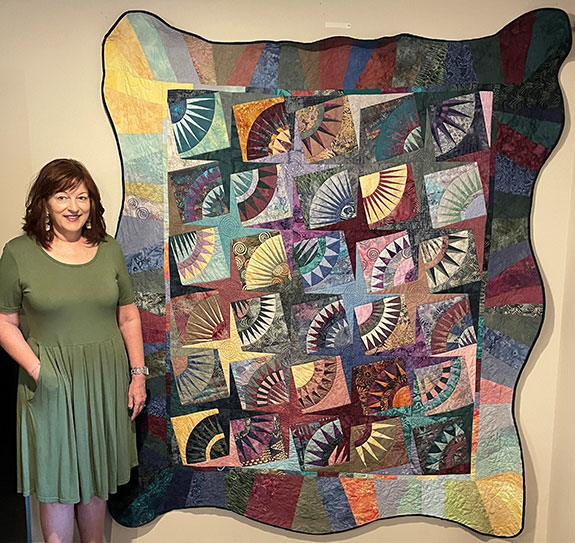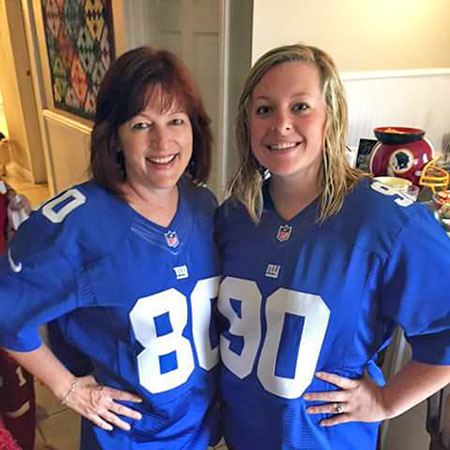 Scott Harwood—seeing the world up close and personal
To say that Scott is well-traveled is an understatement. He's been all over the world. But he doesn't zoom around the sites like most tourists. Whether it's a small river boat, a biking trail, or just a walk, he chooses simple trips, takes his time, and gets into the spirit of a place.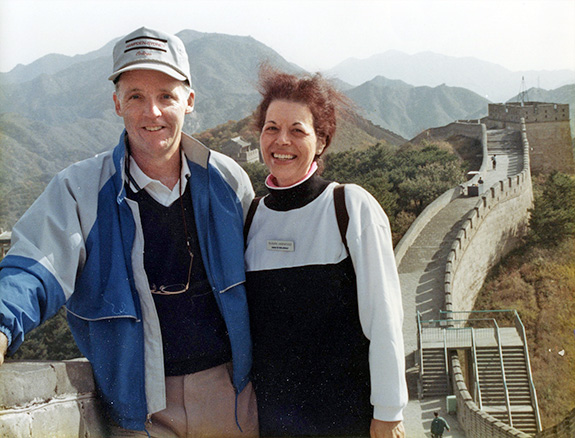 His ventures began in the Air Force. As a flight maintenance officer on a C-141 aircraft, he flew all over with plenty of time to explore. They would take troops to NATO exercises in Spain, Italy, Germany, and other places, drop them off, then rent a car and travel around the country, getting back a week later to take the troops home. I told Scott he had a sweet deal for sure!
At a castle in Heidelberg, Germany, he and his buddies tried to buy tickets to enter, but the attendant didn't seem to understand their English. After several fruitless attempts, one of the men mustered up what little German he knew, made the request, and they got their tickets. Afterward the attendant, in perfect English, said "Gentlemen, when one is in Germany he should speak German."
The Air Force liked to do everything bigger and better than the other branches, so when in field conditions they had better tents, hot showers, and a movie tent. At one NATO exercise in Greece, the Australians had a better deal yet—they got liquor rations. But the airmen still benefited, as the Australians would come trade liquor for hot showers.
You can see why Scott decided he was going to make a career of the Air Force, but his commander made him reconsider. "Scott," he said, "you're one of my finest officers and you've accomplished everything I've asked you to do. But you're also a maverick, and you bend the rules. Down the road you'll get a commander who goes strictly by the book, and he's going to ruin you. I suggest you take your talents and go into private business."
So Scott returned home and joined his dad in the insurance business with Harwood and Sons. He's still there, only his own son is the one in charge now.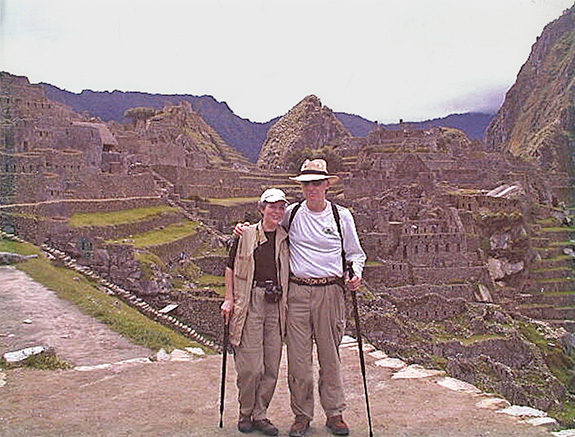 After the Air Force, Scott married, and his wife, Susan, shared his passion for travel. They took lots of river trips, generally in small boats on small rivers in Europe, Russia, China, India, and Australia. They enjoyed meeting real people in real places, up close and personal.
On a river trip to the Netherlands, they discovered another fun way to travel. The captain had eleven bikes on board and asked if anyone wanted to wheel through the local towns, which they jumped at. That prompted them to check out Vermont Bike Tours, which specializes in sending small groups all over the world, bicycles and accommodations supplied.
After 911, more cautious about worldwide travel, the Harwoods made yet another transition—to walking tours, primarily across the US, an activity they enjoyed until Susan's death last year. Walks included Pikes Peak and Mt. Evans in Colorado and the deserts in Arizona, among many others.
Scott joined the Rotary club early on, a great fit with its emphasis on global concerns. And our club benefited from his experience. Old-timers will remember how, after several of his trips, he would collect his pictures and slides and do a program for us, letting us travel vicariously with him.
He laughs about one additional impact he made on the club. Early on he, with Bobby Martin, were put in charge of the annual picnic we used to enjoy at Landon Atkins's cabin. Since Scott is a Hampden-Sydney graduate and Bobby a Randolph-Macon graduate, the two rivals had to set aside their differences and work together. But they did have one love in common, and so they set up a bar for the picnic, a new venture for our club.
A handful of Rotarians didn't appreciate the innovation and left the picnic, and Scott tried to shift the blame to those "Randolph-Macon types." But the next year he took credit when, in fact, the club again offered alcohol at the picnic and for many years to come.
On sober reflection, I think everyone will agree that Scott continues to contribute much to the Farmville Rotary Club, and we wish him well on future endeavors.

Just another fish story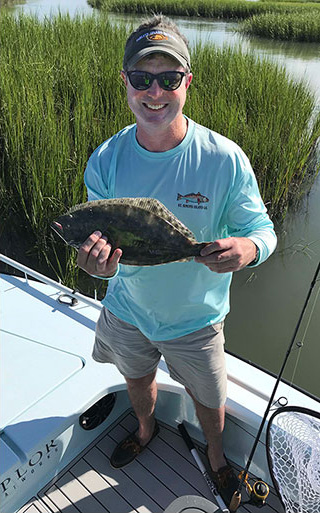 By Jon Marken
When John Miller talks about our Rotary-sponsored fishing tournament, it's easy to catch his enthusiasm. He's been hooked on the sport since middle school.
The choice to fish was his own. His father and grandfather introduced him to golf, buying him lessons and taking him out on the course frequently. But he found it frustrating when he couldn't shoot better than double bogey.

"Why am I driving myself nuts?" he finally asked. "What's a hobby I can really enjoy?" When the idea of fishing dangled itself before him, he took the bait and never looked back. He especially liked the relaxing nature of the sport. "Even if you don't catch a bunch of fish, you're still on the water, enjoying the tranquility."

More recently he appreciates the chance to reflect, to think deeply while the line is in the water. He began to hunt as well, appreciating more and more the beauty of the outdoors than anything else. He says it helps cultivate a sense of mindfulness, being focused on the moment and his surroundings, not the phone or future deadlines. "It's not just about killing or catching something. …A lot of times it's like taking a small mental vacation."

The beauty of the outdoor life especially helped him in college and grad school. John majored in English at VCU and initially embarked on a career in public relations and advertising. Then he decided to hit pause on his career and pursue a master's degree at Auburn University, where his family had gone. Throughout it all he continued to fish. Those "small vacations" from life's stresses made schoolwork easier to handle.

While his peers would stress out over comprehensive exams, he found preparing for them the "greatest thing in the entire world." He would tote his books and gear to nearby lakes, stick a couple of rods in the ground, put livers on the hooks, bells on the line, then sit back and read. Moby Dick, Henry James novels, interrupted only by the ding ding ding of a catfish on the line. He'd reel in the fish, rebait the hook, then settle in again. "I would spend entire days doing that. Those were great places to read."

The son of a Navy pilot, John has traveled widely. He's fished in Washington state ("I'd never seen such fish before!") and Florida and many places in between, including Virginia Beach, where he graduated from high school. And now as a reservist in the Coast Guard, he still gets to fish in many places. He keeps his gear in the back of his truck and is ready whenever he passes a good place enroute to his unit in Portsmouth. He enjoys tossing a line equally well whether off the back of a Coast Guard cutter or the side of the road.

In the past few years he's had extended stints on active duty, responding to hurricanes, oil spills and other disasters. He spent two months on St. Simons Island last summer working a shipwreck. He loves being part of an effort to help people and save lives and also to take care of our environment, again part of his outdoor life.

John is grateful for all the opportunities he's had, "whether it be luck or providence." And he loves giving back. That desire is what first drew him to Rotary. Kerry invited him to speak about Downtown Farmville, and soon she sent him the paperwork to apply for membership. That was 2012. He went on to serve as secretary ("a great introduction to Rotary") and then president in 2016-17. He's now the membership chair.

He compares his work in Rotary leadership to his work in the Coast Guard. "As in the military, you're nominally in charge, but you have a great wealth of talented, motivated people, so you support them in their aims and their work—you help them accomplish goals using the skills they have. It's gratifying to support their success." He's finding the effort as membership chair difficult in this era of COVID, but he continues to persevere. If I may use a biblical allusion, he's a fisher of people as well as fish.

Of course, many of us know John primarily as an English professor. When he applied to grad school, he had planned to get his degree and return to a PR career. He didn't know that the "teaching assistantship" they offered would put him in front of a classroom right off the bat. He loved teaching and immediately changed his plans. After getting his master's at Auburn in 2002 he went on to William and Mary for his doctorate, focusing on Southern literature and culture. Then he was in the right place at the right time, landing his position at Longwood in American literature right as he finished school.

From his first visit to Farmville, he loved it. As he drove over rivers and passed ponds, he thought, "I bet there's a lot of fish in there." He ended up loving Farmville "even better than I could have anticipated."

Yes, John sure is excited about our fishing tournament. "It's a way to benefit not just the club, but also the entire community." So let's climb on board or launch the craft or do whatever it is we need to do. We can all use a "small vacation"!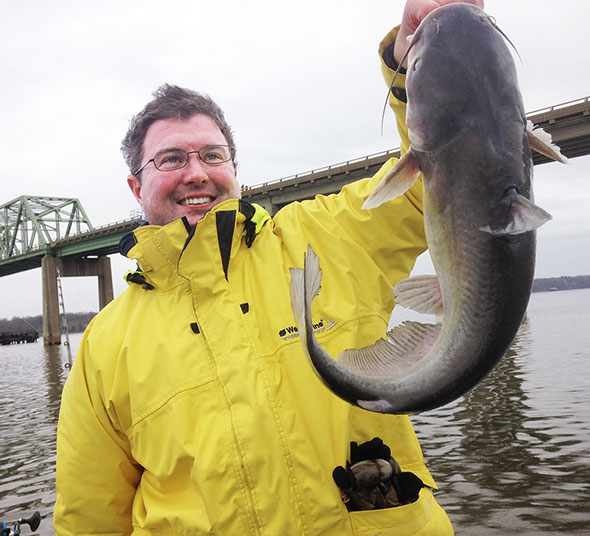 Check out Sue Carter's wrist
The District 7600 newsletter included this piece on Sue Carter. Check it out!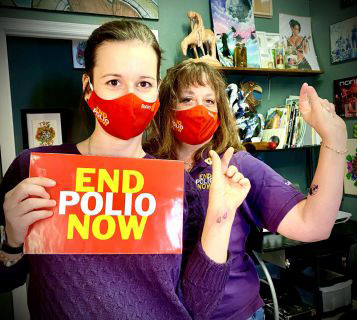 What have you done to advocate for PolioPlus?
submitted by Dianne Gordonn
Two Rotarians in District 7600 have made a permanent mark, to promote and have people ask about the PolioPlus Program. On World Polio Day, October 24, 2020, District 7600 along with Districts 7630 and 7730 held a telethon promoting the Polio Plus program. Over 300 Rotarians took part in the four-hour event, hosting speakers from around the globe; including RI President Holger Knaack, Mike McGovern, Dr. Peter Salk and many more. During the event a polio awareness set containing; a polio NID vaccinator kit, two-drops jewelry, India Polio Free watch, pins, polio vaccine vial and more were auctioned.
In an effort to reach the goal of $1,000 for the set, D7600 PolioPlus Chair, Colleen Bonadonna made the commitment to tattoo two drops on her arm if the goal was reached. The goal was exceeded!
Inspired, two other Rotarians from District 7600 committed to also getting two drops tattooed. So on January 21st Colleen and District 7600 Membership Chair, Sue Carter went to Liquid Metal in West Point, VA and had tattoos emblazed on their forearms. Colleen with the Polio Plus image and Sue with two drops. Note this was the first tattoo for Colleen. Unfortunately the 3rd Rotarian, Lieutenant Governor Pat Edwards, had to postpone her appointment, but is looking forward to having the drops permanently affixed.
So what have you done to promote the PolioPlus program?

President-Elect Jenn in her own words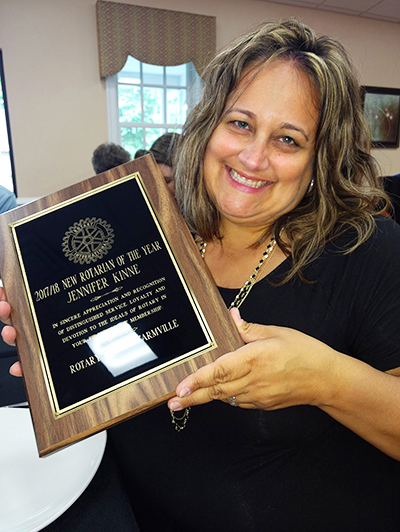 Jenn Kinne, our upcoming president, talks about her love for service and for Rotary.
Tell us about a trip or series of trips you found especially enjoyable, especially Rotary trips.
I love to travel. I especially love hotels. I am drawn to a fancy lobby with comfy seating, a plug for my computer and tons of people watching. I have not had the pleasure to attend many Rotary trips. My first one was literally during the announcement of the first Covid case in Virginia. That case was in Northern Virginia, the same place as the Rotary conference!
Tell us about an area of service, either in or out of Rotary, that you find especially rewarding.
The area of service that I am most passionate about is hunger. Especially with regards to children. I love to work at FACES any chance I can get. I love the new Food Market that is offered monthly at PECPS, and I love that our food service department at PECPS does their own food distribution once a week.
Personally, food is my love language. I come from a large Portuguese & Italian family. Food was everywhere growing up. Children should never have to feel hunger or wonder where their next meal is going to come from.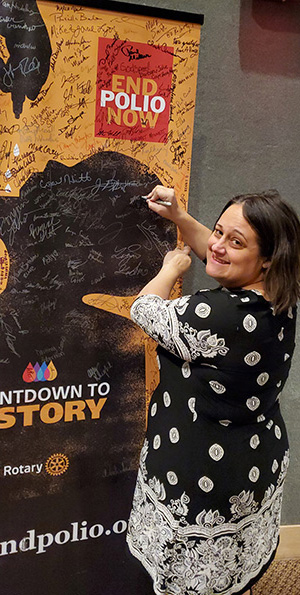 Have you, in turn, been the beneficiary of someone else's service or generosity? Tell us about it.
I enjoy just being the beneficiary of someone else's kindness and patience. I don't necessarily have a need in my family for tangible items. However, I am a strong believer that everyone is walking through something and we aren't always privy to that information. Being offered kindness, patience and forgiveness is the best form of service and generosity that someone can offer me.
Who first told you about Rotary or brought you into the club? What was your initial attraction?
John Miller was the first person to talk to me about Rotary. My first Rotary meeting was one of the first Happy Hour meetings at Charley's. John reached out to me a few times to get my opinion regarding speaker ideas. I found that fascinating. That feeling of inclusion hooked me.
What makes Rotary special?
I like that Rotary meets weekly. I think when you first join the club, it seems a bit overwhelming to commit to a weekly meeting. However, I think it is exactly what keeps us connected. I look forward to my Thursdays. Covid has really made me miss our group tables. I love coming in and sitting with 5 or so other Rotarians and catching up on our week and really getting to know them.
Tell us about yourself and your family.
I am a mom and a wife. I love our small town and I believe it is the best place to raise a family. Two of my favorite things are: watching my boys and my husband's team play ball and a good snuggle-fest with my two fur-babies in front of the fireplace with a great cup of coffee.
What's something that you wish more people knew about Rotary?
I love that we are a hands-on club. We don't just write checks. We roll up our sleeves and participate in projects. I have really enjoyed learning new skills at Habitat builds. I am pretty sure I would not have learned how to put siding on a home or install ceiling insulation had it not been for Rotary.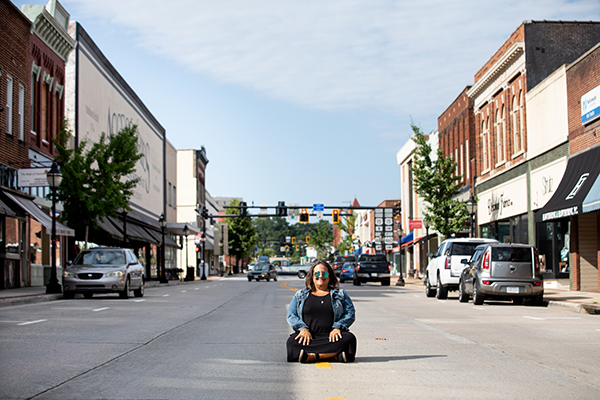 President Jen Is 'Very Invested'
By Jon Marken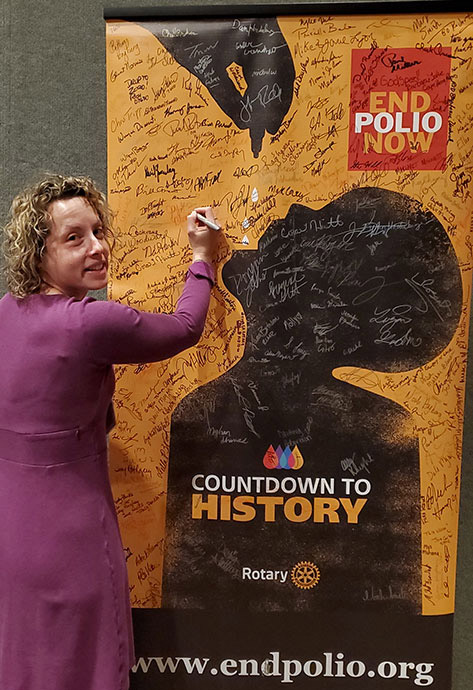 President Jen Fraley is a perfect fit for Rotary. She grew up with a global perspective and a heart to help others.
With her dad in the Navy, the family lived in several states and countries and, in each place, entered wholeheartedly into the language and culture. Guam, Japan, Sicily, Iceland, Washington state, North Carolina—quite a mix!
Her family found welcoming people everywhere they went. In Sicily they lived in a town on the slopes of Mt. Etna, the famous volcano. They had been there only a couple of months when her mom ventured down to the corner to buy supper from the fishmonger. Unknown to her, some neighborhood women looked on from a distance and perceived the fishmonger taking advantage of her and her scant knowledge of Italian. So they descended on the man and gave him quite a dressing-down. Then they boycotted his business for months.
That was just one of many times that locals came to their rescue! So Jen learned from an early age how to look out for others and be looked out for in return, how to immerse herself into a group of people and discover all they had to offer.
When she joined our Rotary club in 2017, she jumped in with enthusiasm just as she did in each place growing up. After only a few months she attended the District Conference in Virginia Beach along with Julia and Sue. She was impressed at the breadth and depth of Rotary with its many avenues of service and became "very invested."
"We came out saying, 'Whoa, we had no idea.'"
Subsequent conferences and the PETS training for Rotary officers continued to teach her new things Rotary is doing. "It never ceases to amaze me…. There's always something I find Rotary involved in that I had no idea." She mentioned the extent Rotary has helped with COVID because it already had the infrastructure in place from working with polio.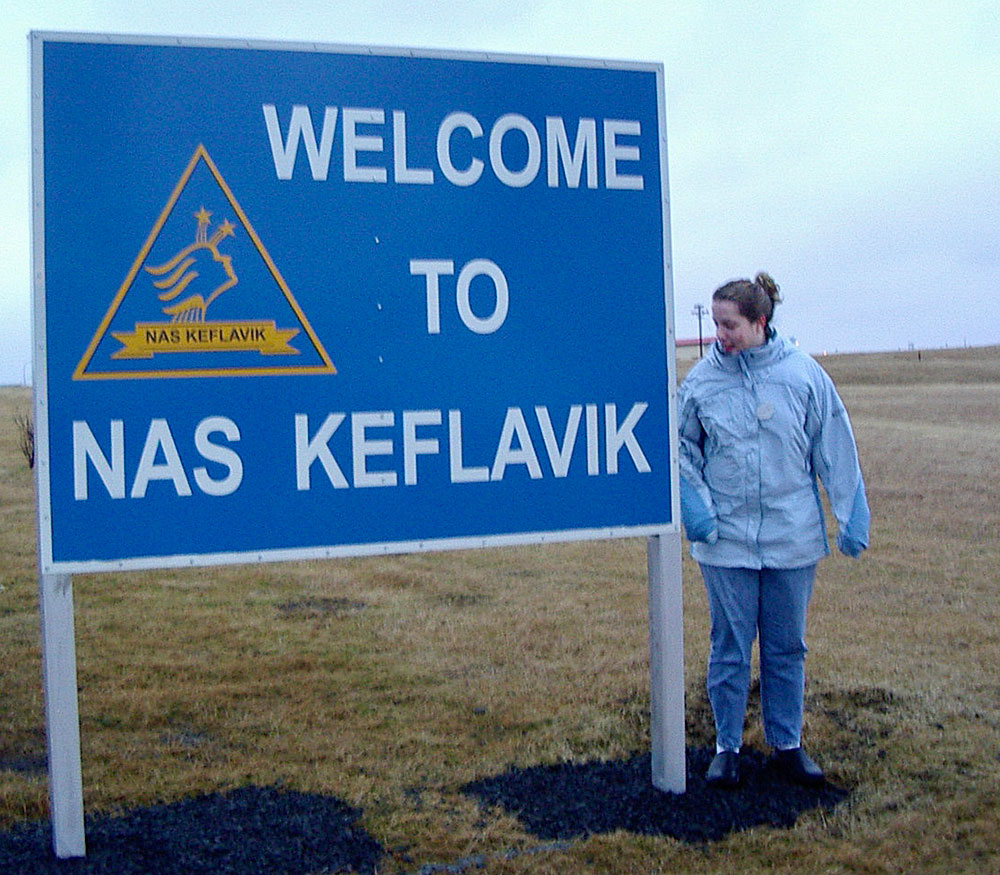 Avenues of Rotary service that especially appeal to her include education and literacy, which she considers fundamental human rights. A good education provides not just personal enrichment but a strong defense against those who would take advantage. So she's in a fitting career as Dean of Students at Longwood University.
Jen's desire to help others led her to Habitat for Humanity while in college, and her involvement continued for many years, including a stint on our local Habitat board. She believes that safe housing is a basic need like education and literacy, and in fact they are closely tied. Studies show that a stable home affects children's ability to succeed in school. Also, stable homeowners increase the stability of the whole community.
Because Habitat has term limits for board members, Jen knew she would have to step back for a while, so she remarked to John Miller, her colleague at Longwood, her need to find another outlet for service. Naturally John had just the solution, and our club enjoys the fruits of that conversation! She now views herself as a lifelong Rotarian and is excited to see what the future will hold.
She likes to attend other club meetings when she travels, including one in Alaska where she led a student trip, one near her brother in Pennsylvania, and one near her parents in Ogdensburg, New York, on the St. Lawrence River.
Finally, she thinks Rotary values are universal in scope and the four-way test a great framework for how we look at things. "If you are upset about something or feel you've been wronged in some way, that framework helps to put in perspective what would be the higher path. …You won't let your emotion in the moment cloud your judgment."
With a laugh she added, "You take a minute and you take a breath, and you put that email into a draft folder and you wait on it."
With all the challenges of COVID, it's a tough year to lead any venture, but the Rotary Club of Farmville is fortunate to have such a steady hand on the tiller.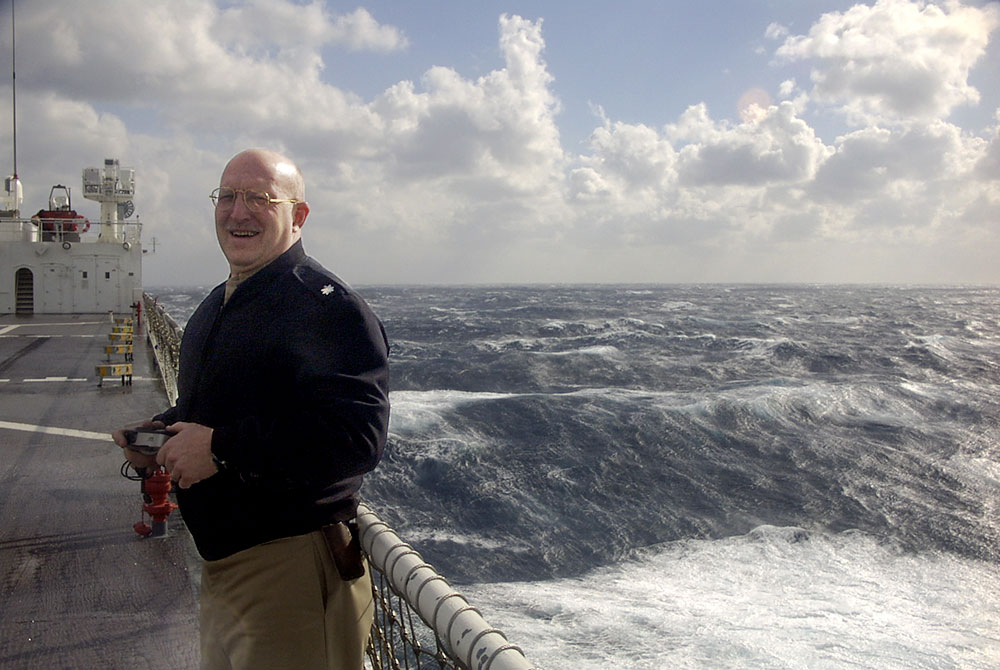 Kerby Moore on Rotary, Traveling
Longtime Rotarian Kerby Moore reflects on his time in Rotary. And in the international spirit of Rotary, he's an avid traveler too!
1. Tell us about an area of service that you found especially rewarding.
I have spent more years as Membership Chair than any other position. "Membership" has long "tentacles" that can reach into all aspects of Rotary. In a way, EVERYTHING is related to Membership! It is the DUTY of every Rotarian to introduce new people to Rotary.
2. Who first told you about Rotary or brought you into the club? What was your initial attraction?
I was introduced to Rotary by Marshall Thackston, back when the club met at Cedar Brook restaurant. I didn't know where we were going. He simply offered to take me to lunch. Then at the restaurant he said he wanted to introduce me to some friends. I didn't know I was at a Rotary meeting for a while! I was attracted to the camaraderie of the members and the singing and fun everyone was having.
3. Tell us about past Rotarians you found especially inspiring.
When I first came to Rotary, I volunteered to restart a newsletter since the club's newsletter was inactive when I joined. One of the stories I did was to inquire as to who sponsored each member. It turned out there was one member, Bobby Martin, who had personally recruited more Rotarians than all the other members combined. I was very impressed by that.
4. I know you've visited a lot of other clubs. Is there anything we can learn from them?
I strongly recommend visiting other clubs whenever possible. It is mind-boggling how different the meetings are! But at the heart of each meeting is a collection of great people who are civic minded who want to make the world a better place. Also, by visiting other clubs, we can pick up fresh ideas on service projects, fund raisers, etc.
5. What's something that you wish more people knew about Rotary?
One of the best things about Rotary is also what makes it so hard to explain to others. "What does Rotary do?" Well, we can do anything we want if we feel it makes the world a better place! We can act locally or internationally. We are not limited to any single mission statement. This month we may do a project to benefit babies in Africa. Next month we may donate computers to the local library. We can feed children in a third world country or we can help feed people right here in Farmville by helping FACES. I love that!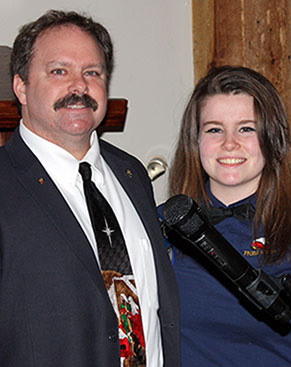 6. On a personal notes, tell us about your travels. I know you get around!
I love going to Europe! I try to go once a year. I've now been to eleven European countries. (I've been in 27 countries in all, but the countries in Europe are my favorite). I'm always asked which is my single most favorite. That is so incredibly hard to answer, because they're so different. I would say my top three have been Ireland, Germany, and Switzerland.
Pictures: Kerby as Santa at the tree-lighting in 2018.
President Kerby at the Rotary banquet in 2010. (That's one cool dude!)
Kerby with his daughter Jewel at an Interact meeting in 2011.

Julia McCann on Rotary and Giving
Julia McCann, current secretary and winner of the 2019 Rotarian of the Year, tells how she got involved in Rotary and the importance of giving.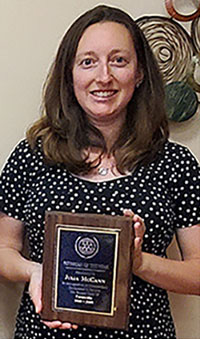 How did you get started in Rotary?
I was in Interact Club in high school. At the time I didn't have a great understanding of how my school's club was connected to an enormous network of people of all ages doing good all over the world.
It was just that there was some old guy (he was probably 40) who would come to our school occasionally from some club called Rotary that was somehow affiliated with our Interact Club. When I moved to Farmville, I was lucky enough to meet Sue Carter by crashing her birthday party and she invited me to join our club.
What's something that you wish more people knew about Rotary?
I wish more people knew about Rotary's 6 focus areas: promoting peace; fighting disease; providing clean water, sanitation, and hygiene; saving mothers and children; supporting education and growing local economies. I am super excited that Rotary will be adding the environment as a 7th focus area. My husband and I are pretty eco-conscious in our decision-making (we compost, haven't bought paper towels in years, and are always carrying our reusable water bottles).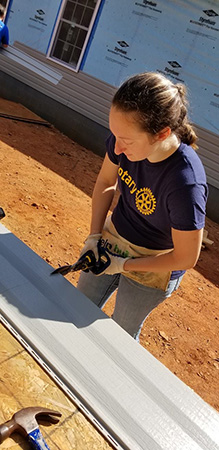 I wish people in town knew more about what Rotary does in each of these focus areas. For example, Sue personally went to Ghana to oversee clean water and sanitation projects and our club helped to fund that trip. We have a global grant to provide incubators to promote child health. We created our Rotary Runs event and Access to College project to support education. We have hosted "purple pinkies" events to help eradicate polio from the world, etc.
Have you been the beneficiary of someone else's service or generosity? Tell us about it.
I was born with a congenital heart defect that required surgery when I was six years old. My blood type is one of the less common ones and the doctors wanted to make sure they had extra B positive on hand during the surgery. I'm not sure if the medical team needed it in the end or not but there were some very generous friends of my family who took the time and managed the discomfort to give blood.